Request an appointment
For an appointment with any of our clinicians we now use a system called accurx patient triage. This system has been well received by our patients and has allowed us to respond to the ever increasing demand.
Once you submit accurx patient triage request using the link a triaging clinician will review this request within 48 hours and will either deal with it immediately, arrange for you to be seen or spoken to on the same day, arrange for you to be spoken to or seen within 5 days or arrange for a routine appointment with whichever clinician they deem appropriate.
Please do not worry if you cannot use technology our receptionists can complete the form on your behalf.
Complete a request form
Until the coronavirus pandemic has settled, all future appointments will be by telephone, or video. A clinician will determine if you need to attend the surgery in person, or if you need a home visit. Most problems can be safely dealt with by telephone or video. It is much safer that patients with routine problems wait until after the pandemic has settled, and patients will only brought in when there is an absolute medical need.
All face to face appointments will receive a screening text to ensure they do not have covid symptoms. Patients who can not use texting will be contacted by phone.
Prescriptions need to be ordered via an online app wherever possible and sent electronically to the pharmacy. The prescribing line on 01695 736100 can advise on this.
Talk and Treat
Arranging your Appointment with Talk and Treat

Beacon Primary Care are pioneers in this field and the Talk and Treat Telephone Consultation system has been adopted by many practices in the UK. If you would like advice or a face to face consultation with a Doctor or Nurse Clinician, the first step is to book a Talk and Treat Telephone Consultation. You can use the telephone appointment service for urgent and non-urgent health problems. For non-urgent routine appointments we are currently booking appointments in advance. This service will help you to get the appointment you need, at a time that is convenient to you.

This is how it works:

If you require advice, or a face to face consultation with a Doctor or Nurse Clinician, the first step is to book a phone call.

We will always aim to provide a routine call back within 5-7 working days, and within a two hour window of your allocated time slot. Urgent calls will always be dealt with the same day.
A Senior Prescribing Clinician from this Practice will call you at a mutually agreed time at which point we can arrange:

Immediate attention with a GP if your need is judged medically urgent.
Agreed appointment with a GP, Nurse, Health Care Assistant.
Phlebotomy appointment or any other appropriate tests.
Referral to allied health professionals or hospital.
Telephone consultation.

Let the Doctor know all the topics you wish to discuss at the start of the consultation so that you can both prioritise what can be done in the time available.
If you have a particular worry or concern, no matter how silly you may think it is, let the Doctor know. This is the best way to get the reassurance or plan you need.
If you feel a particular line of treatment is suitable, or not suitable for you, please say so. A lot of NHS resources are wasted if patients who are too polite to say a plan of action is not what they really want.
50% of patient calls are dealt with over the phone; 50% of patient calls come in for a range of appointments and services.
The advantages of a Talk and Treat Telephone Consultation:

Early identification of medically urgent problems.
You see the right person for your needs, for example, patients requiring particular procedures, such as joint injections or coil fittings, are directed to the correct member of staff.
More capacity—routine appointments are generally available within 5-7 working days.
You get the time you need.
Why We Changed

We want to improve your access to appointments.
We want to make sure that you see the right person for your needs.
We want to reduce the number of missed appointments.
We want to stop the 8:30 appointment rush.

The book on the day system — though this reduces missed appointments (possible the worst abuse of the NHS) it creates a huge morning demand as people rush to get an appointment. This stretches the phone system as well.

Having questioned patients, analysed appointments and discussed this amongst the team, we feel that the key to solving this problem is to ensure that patients are directed to the right member of the team.
We have invested heavily in upskilling the entire clinical team, we need to make sure that they are used appropriately.
Some examples….

We have several Nurse Prescribers who can prescribe the full range of medications and can access online clinical support as well as having direct access to the GPs.
We have Health care assistants who can do new patient checks, take your bloods, check urine, take blood pressures and even give flu vaccines in some cases.

Is this it?

No — we will monitor and refine this plan if necessary we will change it again.

You have told us there is a problem, and we take your views seriously.
Talk and Treat FAQ

Why is the surgery offering telephone appointments?

You have told us that sometimes you find it frustrating and difficult to get the appointment you need, when you need it. By offering telephone appointments and giving advice, we can ensure that everyone is able to speak to, or see, a Clinician at a time and day they choose.

Many people don't need to come into the surgery to be seen at all; their problem can be dealt with by telephone. This gives your doctor more time to see those people that need appointments in the surgery. As your doctor is the one making the appointments, he or she can judge how much time you might need and give you a long or short appointment. This helps appointments to run to time and means you're more likely to be seen on time. We also know that when people make an appointment close to the date that they call, they are more likely to keep the appointment.

What do I do if I need an emergency appointment?

Telephone the main surgery number and tell the receptionist that your health problem is urgent.

Can I still telephone to make an appointment for a home visit?

When you speak to the Doctor ask for a home visit. If your doctor thinks you need to be seen at home, he or she will arrange this when you speak to them.

Are telephone appointments safe?

During your call with the Doctor, he or she will ask questions to help them make a decision about whether you need to be seen in person or not. For example, if your Doctor needs to look at something or examine you, you will be asked to come into the surgery for the appointment. If your Doctor thinks you need to be seen he or she will always ask you to come in to the surgery to see the right person for your needs.

What happens if I have trouble using the telephone?

If you have difficulty using a telephone you can still come in to the surgery to book an appointment. You will be added to the doctors list and they will book your appointment or advise you in the same way.

Can I still book an appointment for next week or next month?

You can still book your appointments in advance. You can do this several ways, via online Patient Access by calling 01695 317920 , or by visiting the surgery.


Will I be seen quicker if I come into the surgery?

Unless your problem is an emergency, you won't be seen more quickly if you come into the surgery to make an appointment.


I'm not comfortable telling the receptionist what is wrong, do I have to?

Knowing what your health problem is generally helps the staff at the surgery to make sure those people with more urgent problems are seen quickly. However, you don't have to tell the receptionist what is wrong. If you are not comfortable talking about your health problem, simply say you would rather not and the receptionist will respect your wishes.
NHS App
Download the NHS App, or open the NHS website in a web browser, to set up and log in to your NHS account. Owned and run by the NHS, your NHS account is a simple and secure way to access a range of NHS services online, including appointments, prescriptions and health record.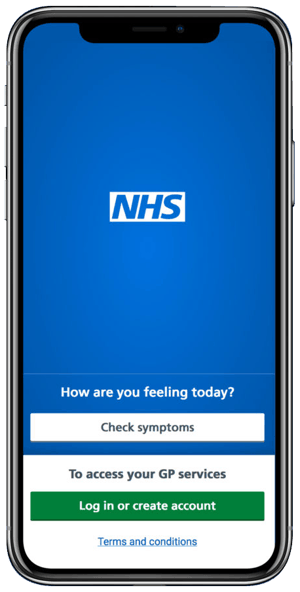 Can another Healthcare Professional help?
Do you need to see the GP?
Sometimes the GP is not the most appropriate Healthcare Professional to deal with your ailment. Please see the information on see a Doctor or Healthcare Professional, which might help you decide whether a GP appointment is truly necessary or whether it might be better for you to see a Pharmacist, Optician, Dentist or other Healthcare Professional. You can even self-refer for some services without seeing your GP.
For real life-threatening emergencies such as those below – RING 999
Chest pain (suspected heart attack)
Anaphylactic shock (severe allergy)
Heavy bleeding or deep lacerations
Fluctuating levels of consciousness or completely unconscious
Difficulty breathing or stopped breathing with a change in colour
New seizure, fit or uncontrollable shaking
For immediately serious conditions such as the following, GO TO Emergency Department (A&E) IMMEDIATELY
A fever and lethargic (drowsy) child
A feverish and floppy (unresponsive) infant
Difficulty breathing
Sudden, severe abdominal pain
Accidental or intentional overdose of medication
Trauma (including falls) and possible broken bones or road traffic accident
Please help us
If you are not able to attend your appointment please let us know in time so that the time can be used for someone else. If you are late for an appointment you may be asked to re-book.
Additional information
Can I bring someone to accompany me to the Appointment?

We are generally very happy for patients to bring with them a carer, relative or even a friend. This often helps, particularly when they know you well and it allows them to tell us any observations they would make about you, which can help us in undertaking our assessment. Ultimately this will lead us more quickly to make an accurate diagnosis and therefore help you more.

Also, having someone with you means they can prompt you to ask questions that you may have forgotten, and after the appointment they can help in reminding you what was discussed.

Occasionally we might ask for them to leave but this would be unusual.

If you require interpretation services please contact us in advance of you appointment and we will arrange this.
If you have a suspected infectious disease

Please inform reception if you suspect an infectious disease, as this will enable us to deal with it appropriately during your visit to protect you, other patients and staff.
Giving Consent for Treatment

You have the right to accept or refuse treatment that is offered to you, and not to be given any physical examination or treatment unless you have given valid consent. If you do not have the capacity to do so, consent must be obtained from a person legally able to act on your behalf, or the treatment must be in your best interests.

Your valid consent (agreement to the course of action) is needed for the treatment that's offered to you before any physical examinations or treatment can be given. If you haven't given your consent, you can accept or refuse treatment that's offered to you.

It's important to be involved in decisions about your treatment and to be given information to help you choose the right treatment. When making treatment choices, you'll often discuss the options with your doctor or another healthcare professional.
Urgent and emergency care services